10 Buku Pilihan Kak Iman 2018
Kita semua membaca bersebab.
Ada yang membaca untuk mencari jawapan. Ada yang membaca untuk mendapat inspirasi. Dan ada yang membaca untuk "lari" sebentar dari realiti.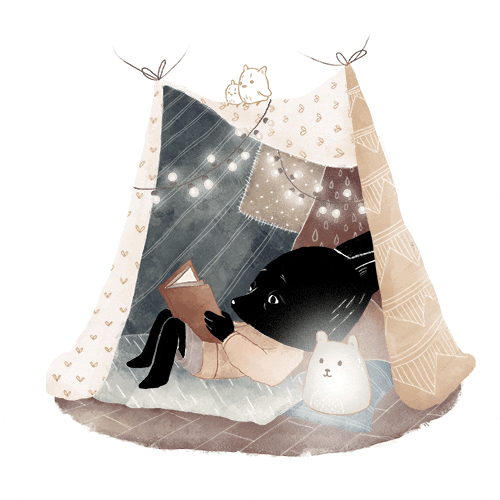 Pembacaan Kak Iman tidak pernah dikhususkan kepada hanya satu genre kerana Kak Iman percaya setiap buku memainkan peranan berbeza mengikut kesesuaian situasi.
Dari puluhan buku yang telah Kak Iman baca untuk 2018, terdapat 10 buah buku yang telah memberi impak kepada Kak Iman; sama ada buku-buku ini mengajar Kak Iman, merawat Kak Iman atau membantu Kak Iman untuk memahami kehidupan ini dengan lebih baik.
Berikut adalah 10 buku pilihan Kak Iman untuk 2018. Moga buku-buku ini membantu kalian semua pada tahun 2019 sebagaimana "mereka" telah membantu Kak Iman sepanjang 2018.

Kategori : Bukan Fiksyen
Untuk cuba menakluki ketidakyakinan di dalam diri :

Unshakeable oleh Aiman Azlan
Apa yang membezakan buku Unshakeable dengan buku-buku Self Help lain di luar sana adalah konsep ketidakyakinan dibincangkan secara realistik dan "relatable" di dalam buku ini.
Penulisnya kemudian membincangkan langkah-langkah yang boleh diamalkan untuk seseorang membina keyakinan diri dengan cara yang praktikal dan strategik.
Quote yang disukai dari buku ini : "We will always be a work in progress."
Dapatkan buku 'Unshakeable' di sini atau di kedai buku seluruh Malaysia.
.
Untuk berfikir dua kali sebelum meninggalkan sebarang komen di sosial media : 

Hikmah dan Karakter oleh Hasrizal Abdul Jamil
Melalui pemerhatian, sosial media masa kini telah melahirkan masyarakat yang biadap dan passive-aggresive. Kita tidak mampu menjadi pengguna sosial media yang bijak apatah lagi berhemah. Buku ini hadir sebagai panduan kepada kak Iman untuk lebih mindful dengan tutur kata dan cara pembawakan diri sama ada di sosial media atau dunia sebenar.
Bahagian yang terkesan pada diri :
"Kesimpulannya, "hikmah" adalah kata-kata yang sesuai untuk orang yang sesuai pada waktu yang sesuai pada kadar yang sesuai dengan pendekatan yang sesuai. Dalam erti kata lain, hikmah adalah tepat. Kerana itulah apabila al-Quran disebut sebagai al-Hakim dalam surah Ya Sin ayat dua, bermaksud al-Quran itu tepat."
Dapatkan buku ini di sini atau di kedai Iman Shoppe, Serdang.
.
Untuk pengurusan masa yang lebih efisien bila kita rasa seolah 24 jam sehari tidak mencukupi: 

I Have 25 Hours A Day : The Smart Way To Create More TIme oleh Dr Mohd Daud Bakar
Kak Iman ada seorang kawan ini. Pada suku terakhir 2018, beliau perlu mengimbangi 2 komitmen kerja disamping pengajian PhD beliau (respect!). 
Beliau cakap, "ketakutan paling utama adalah bukan saja saya tidak akan mempunyai cukup masa untuk untuk melaksanakan 3 komitmen tersebut, tetapi kualiti salah satu dari komitmen tersebut mungkin akan terkorban." 
Bagaimana 24 jam yang kita ada perlu dibahagikan untuk kerja, belajar, ibadah, aktivisma, dan yang paling utama, waktu bersama keluarga? Buku in memberi jawapannya. 
Bahagian yang banyak membantu : Chapter 6 – Impact Measurement of Time dan Chapter 7 – 25 Hours A Day : A Myth or Reality?
Dapatkan buku ini di sini atau di kedai Iman Shoppe, Serdang.
. 
Untuk merasai

"women empowerment"

dari tokoh-tokoh wanita Tanah Nusantara :

Ustazah Zaman Dulu-Dulu oleh Maisarah Mohd. Pauzi
Kita sering merasakan yang tokoh perjuangan emansipasi wanita hanya berada di negara-negara Barat. Buku ini membuktikan sebaliknya dan ia membantu untuk merapatkan jurang antara wanita-wanita muda masa kini yang tidak mengenali tokoh-tokoh wanita yang merupakan pioneer kepada perjuangan pemberdayaan wanita di Tanah Nusantara.
Bahagian untuk renungan:
"Penting untuk kita hargai sejarah emansipasi wanita terutamanya dari sudut pandang kita sendiri. Emansipasi wanita di Barat majoritinya diperjuangkan oleh golongan feminis di sana kerana sejarah mereka yang tertindas. Dan kita, walaupun kita berkongsi jantina yang sama tetapi jalur sejarah kita tidaklah sama dengan mereka."
Dapatkan buku ini di sini atau di kedai buku seluruh Malaysia.
.
Untuk mengambil inspirasi dari perjuangan seorang wanita yang berusaha untuk membijakkan dirinya :

Educated oleh Tara Westover
Educated adalah sebuah memoir yang mengisahkan hidup penulis Tara Westover dan ahli keluarganya yang merupakan pengikut agama Mormon dan mengasingkan diri mereka dari kehidupan bermasyarakat.
Mereka tidak pernah keluar berjumpa dengan ahli masyarakat lain dan kesemua anak-anak tidak dibenarkan ke sekolah untuk menuntut ilmu. Namun sifat ingin tahu membuatkan Tara berjuang untuk mendapatkan ilmu buat dirinya hingga beliau akhirnya memperoleh PhD dari University of Cambridge.
Qoute yang memberi impak : "Everything I had worked for, all my years of study, had been to purchase for myself this one privilege: to see and experience more truths than those given to me by my father, and to use those truths to construct my own mind. I had come to believe that the ability to evaluate many ideas, many histories, many points of view, was at the heart of what it means to self-create. If I yielded now, I would lose more than an argument. I would lose custody of my own mind. This was the price I was being asked to pay, I understood that now. What my father wanted to cast from me wasn't a demon: it was me."
Boleh dapatkan buku ini di MPH Bookstore, Borders atau Kinokuniya, KLCC. 
.
Untuk lari dari "kebisingan" dunia dan menghargai kembali "kesunyian" yang membantu kita memahami diri dengan lebih baik : 

 

In Pursuit Of Silence : Listening For Meaning In A World Of Noise oleh George Prohcnik
Kita kini hidup di zaman yang dikelilingi dengan bunyi bising, sama ada dari muzik yang kita pasang di fon telinga kita, bunyi hon kereta bila kita terperangkap di kesesakan jalan raya, ataupun bunyi bising video "viral news" yang dilambakkan di sosial media.
In Pursuit Of Silence memberi konteks kepada kedesakan kita untuk mencari "background noise" dan rasa takut untuk bersendirian dengan diri dan fikiran kita sendiri.
Quote kegemaran : "Stores and restaurants make noise to seduce us, overstimulate us, and prove they exist. Fear of disappearing, of the stillness of eternity lurking in the recesses of silence is, of course, also a reason that individuals like to hear themselves talk, and turn on a television the moment they walk into an empty room."
Boleh dapatkan buku ini di Kinokuniya secara online atau walk-in di KLCC.
. 
Untuk bersikap kritikal dan berhati-hati sebelum menekan butang "Share" atau "Forward" :

Weaponized Lies - How To Think Critically In The Post Truth Era oleh Daniel J.Levitin
"Fake news" dan "post-truth" menjadi lingo di zaman semua mengejar viral masa kini. Buku ini mempersiapkan kita untuk menjadi lebih berhati-hati dan bijak dalam memilih maklumat atau berita yang ingin disebarkan.
Penulis Daniel J.Levitin, seorang saintis neuro, menerangkan pendekatan asas ke arah pembentukan pemikiran kritikal  minda – minda yang mampu berfikir, menganalisis dan menilai kesahihan fakta atau maklumat secara logik dan rasional.

Buku ini memaknai surah Al-Hujurat 49:6 yang Allah telah ajar kita selama ini.
Bahagian yang memberi kesedaran : "Many people think, "If I found it online it must be true." With no central authority charged with the responsibility of monitoring and regularing websites, the responsibility for verifying claims falls on each of us."
Boleh dapatkan buku ini di MPH Bookstore atau Kinokuniya, KLCC. 
.
Kategori : Fiksyen
Untuk kita yang obses dengan "memutar kembali masa" untuk memperbaiki kesilapan di masa lalu :

Sekali Lagi oleh Auni Zainal
Kita sering kali dihantui dengan kesilapan masa silam kita. Bagaimana jika kita diberi peluang untuk memutarkan kembali masa? Adakah kita akan cuba menghidupkan kembali hari tersebut sehingga setiap sesuatu di dalam hari tersebut "perfect, error-free"?
Tahun ini Kak Iman mencari-cari novel yang mampu "hook" Kak Iman hingga ke akhir cerita, dan novel ini berjaya melakukannya! 
Pengajaran yang diperolehi : "Kita perlu belajar untuk memaafkan diri sendiri, kerana ini yang paling sukar untuk dilakukan sebenarnya."
Dapatkan buku ini di sini atau di kedai buku seluruh Malaysia.
.
Untuk kita yang ingin terputus talian dengan Tuhan dan ingin berhubung semula denganNya :

Letters To God oleh Norhafsah Hamid
Di zaman sekarang ini, kita lebih mudah meluahkan segala masalah dan luahan perasaan di media sosial. Kita juga telah diindoktrinkan yang untuk berbicara dengan Tuhan, ianya perlu dilakukan di tikar sejadah, menadah tangan dan menuturkan kata-kata yang tersusun tatabahasanya.
Tapi novel ini mengajar yang kita boleh berhubung dengan Allah hatta dengan menulis surat, seolah-olah kita berbicara dengan teman paling rapat tanpa rasa kekok atau terbatas dengan susunan ayat yang skema.
Quote kegemaran : "Everything that has happened, there was a lesson for me to learn, though some of it, I still haven't figured it out but I'm sure in time You will give me the wisdom."
Dapatkan buku ini di sini atau di kedai buku seluruh Malaysia.
.
Untuk diingatkan kembali tentang pentingnya buku dalam melawan kejahilan: 

Fahrenheit 451 oleh Ray Bradbury
Buku yang dilahirkan pada tahun 1953 ini merupakan karya kegemaran kak Iman sepanjang zaman. Setiap tahun kak Iman akan cuba membaca semula buku ini kerana isi-isi di dalamnya sangat relevan untuk kita pencinta buku.
Ia mengisahkan satu zaman di masa hadapan di mana tugas bomba bukan untuk memadamkan api tapi memulakan api. Benda yang dibakar? Buku. Aktiviti membaca diharamkam dan setiap rumah ditegah dari mempunyai walau sebuah buku.
Bahagian paling memberi kesan : "If you don't want a man unhappy politically, don't give him two sides to a question to worry him; give him one. Better yet, give him none. Let him forget there is such a thing as war. If the government is inefficient, top-heavy, and tax-mad, better it be all those than that people worry over it. Peace, Montage. Give the people contests they win by remembering the words to more popular songs or the names of state capitals or how much corn Iowa grew last year. And they'll be happy."
Boleh dapatkan buku ini di MPH Bookstore atau di Kinokuniya, KLCC. 
.
Fuh, selesai sudah 10 buku terbaik pilihan Kak Iman untuk 2018. Moga buku-buku ini menambah nilai kepada tahun 2019 kalian semua.
Selamat Tahun Baru dari Team IMAN! 
Sample Block Quote
Praesent vestibulum congue tellus at fringilla. Curabitur vitae semper sem, eu convallis est. Cras felis nunc commodo loremous convallis vitae interdum non nisl. Maecenas ac est sit amet augue pharetra convallis nec danos.
Sample Paragraph Text
Praesent vestibulum congue tellus at fringilla. Curabitur vitae semper sem, eu convallis est. Cras felis nunc commodo eu convallis vitae interdum non nisl. Maecenas ac est sit amet augue pharetra convallis nec danos dui.
Cras suscipit quam et turpis eleifend vitae malesuada magna congue. Damus id ullamcorper neque. Sed vitae mi a mi pretium aliquet ac sed elitos. Pellentesque nulla eros accumsan quis justo at tincidunt lobortis denimes loremous. Suspendisse vestibulum lectus in lectus volutpat, ut dapibus purus pulvinar. Vestibulum sit amet auctor ipsum.